Italian Pork Patties Recipe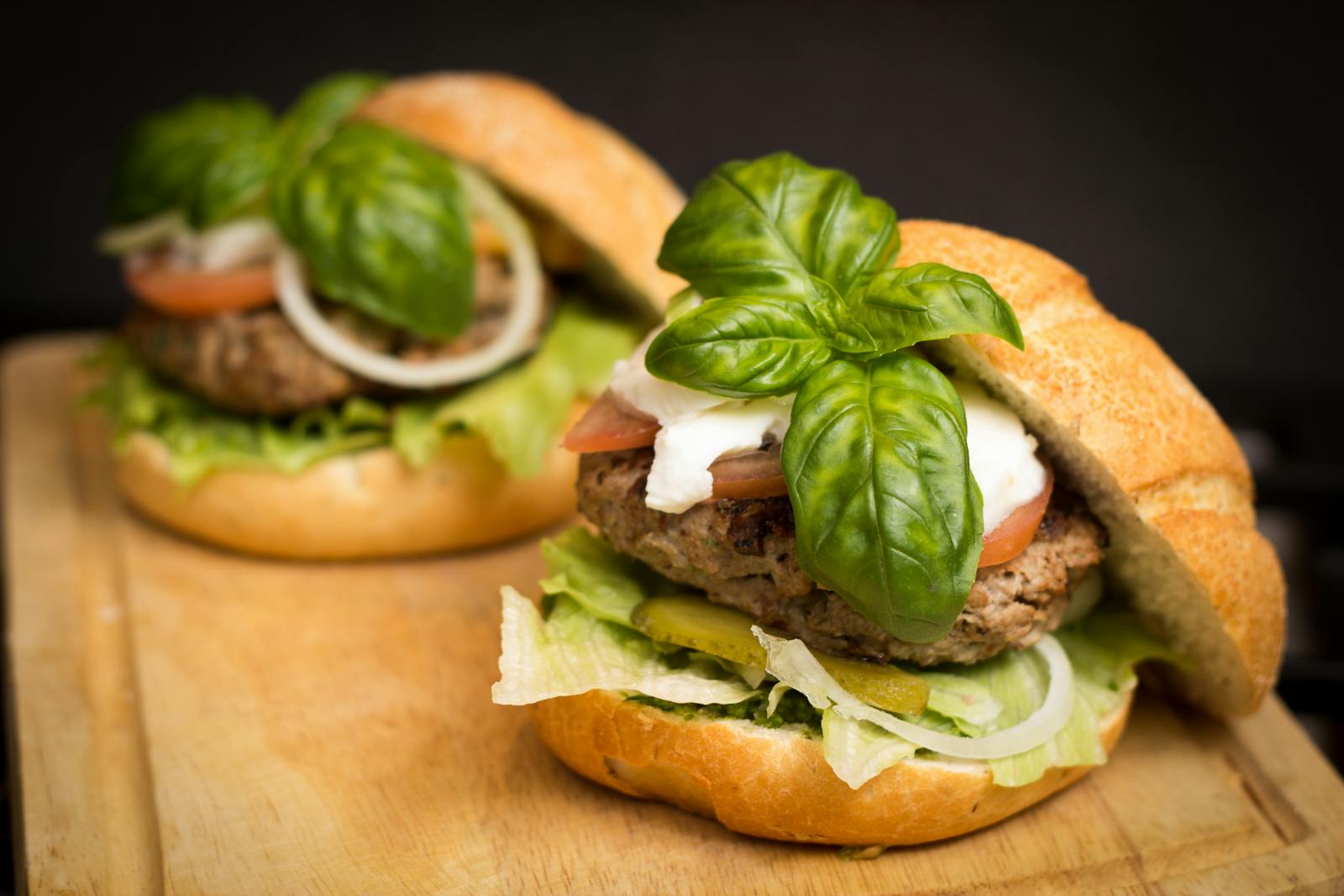 With a lot of succulent pork in my freezer, it was time to get creative. This is a porkie twist on an old favorite sandwich of mine. I hope that you enjoy it.

Italian Pork Patties Recipe

Ingredients:

1/4 cup catsup
1 large egg
1 tablespoon dried chopped onion
1 tablespoon dried parsley (Crumble it into the bowl.)
1 teaspoon dried basil (Crumble it into the bowl.)
1 1/2 teaspoon paprika
1/2 teaspoon garlic
1/4 teaspoon pepper
1/4 cup of Kraft Grated Parmesan cheese (or your favorite Parmesan cheese)
1/4 cup Italian bread crumbs
1 pound of high quality ground pork
1/2 teaspoon Lawry's Salt (optional)
1/4 teaspoon balsamic vinegar (optional)
Olive oil to fry the patties
Hot water for cooking the patties


Method:

This method utilizes mixing and shaping the meat mixture with your hands. Since raw eggs and meat can carry bacteria, it is important that you wash your hands thoroughly after mixing the patties and before touching utensils. This will require you to wash your hands at several places in the recipe.

Have a large heavy skillet with a tightly fitting lid on the stove. Coat the bottom of the pan with just enough olive oil to cover it. Have a spatula ready.

Use a large bowl to mix the ingredients. To measure the catsup, spray the measuring cup with non-stick cooking spray. Measure the catsup, and it will pour right out into the large bowl. Add the egg, onion, parsley, basil, paprika, garlic, pepper, and Parmesan cheese. Stir these ingredients to mix. Press the lumps of cheese so that they get mixed. Add the Italian bread crumbs and ground pork, then the seasoned salt and balsamic vinegar, if desired. Using freshly washed hands, mix thoroughly with your hands until the meat mixture is completely mixed. Wash your hands.

At this point, I like to take about a half an hour to let the flavors mingle. I put the meat mixture in the fridge, and just let it hang out there for a while. You can cook it right away, but letting it stand leads to a more complex flavor.

Put a pinch of the meat mixture into the oiled skillet. Turn on the stove, to high, until the pan is hot and the pinch of meat is sizzling. While the pan is heating, shape the meat mixture into 4-6 patties, depending on the appetites of your family. This recipe makes five patties for my family. When the meat pinch is sizzling in the pan, add the patties to the pan. Wash your hands. After the patties have browned on one side, turn them with the spatula to the other side. Brown the second side.

Pour in enough hot water to cover the bottom of the pan about 1 cm deep (1/3 inch). I used about a cup of water with my pan. You really don't need to measure this. You just need a bit of water, not too much, so that the patties will completely cook and be tender. Also, be careful pouring the water into the pan. You don't want grease popping on you! The outsides of the Italian Pork Patties will be browned attractively, but won't have a tough outer crust. Reduce the heat and simmer for about 15-20 minutes, or until the patties are completely cooked and no red or pink remains. The timing depends on how thick the patties are and how hot that your stove cooks. Turn the heat off. If you like cheese on you patties, now is the time to add it. Cover the pan and let stand for about 3 minutes. Remove the Italian Pork Patties from the pan and serve.


We were out of buns, so I served mine on sprouted grain bread with pesto mayo. I just mixed pesto and mayo together. I used about 1 part pesto to 3 parts mayo. Then, I garnished the patties with slivered sweet onions and fresh spinach leaves. Served with a large mixed green salad, they were a terrific meal.

You can be as plain or as fancy as you want! Garnish each sandwich with fresh basil and serve them on Kaiser rolls with a lot of veggies. These patties can stand up to a big bun with a lot of condiments!

Variations:

These patties can be served on a fresh bun with ranch dressing, lettuce, and sliced tomatoes. You can also use your favorite Italian tomato sauce on a crusty Italian roll. Any way that you serve them, they are a delicious addition to your sandwich recipes.


Related links: The Related Links below this article may be of interest to you.

When I mention stores or products by brand name, these are the ones that I use. I have not received free products from the manufacturers, nor have I been paid to mention the products or stores by name.

NEWSLETTER: I invite you to subscribe to our free weekly newsletter. This gives you all of the updates for the Sandwiches site. Sometimes, this newsletter has information and variations on sandwiches that are not in the articles. Fill in the blank below the article with your email address - which is never passed on beyond this site. We never sell or trade your personal information.




You Should Also Read:
Easy Low Carb Spinach Salad Recipe
Italian Cucumber Salad Recipe
Spinach Mushroom Creamy Soup Recipe


Related Articles
Editor's Picks Articles
Top Ten Articles
Previous Features
Site Map





Content copyright © 2022 by Connie Mistler Davidson. All rights reserved.
This content was written by Connie Mistler Davidson. If you wish to use this content in any manner, you need written permission. Contact Connie Mistler Davidson for details.