Top Ten Sandwiches Articles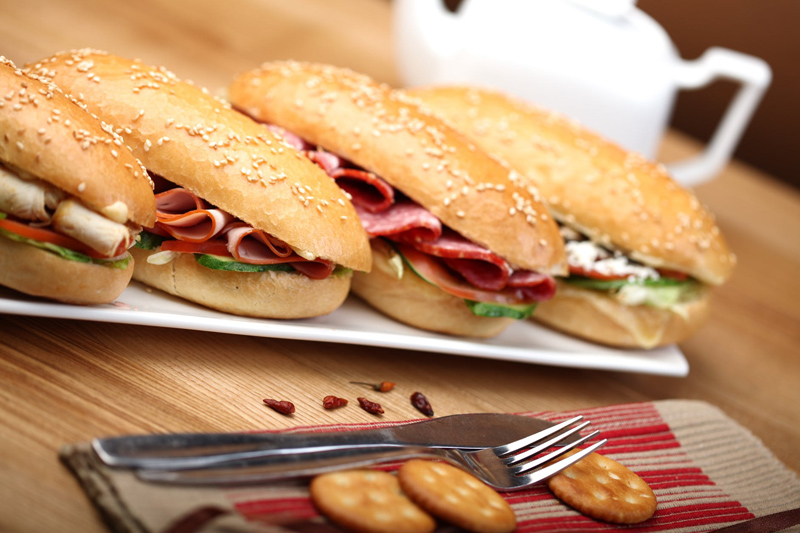 Here are the top ten articles for the Sandwiches Site! These rankings are live and get reset at the beginning of each month, so check back often to see what your fellow visitors are most interested in!
1.
White Fudge Candy Recipes
I like to save money on food. Buying several kinds of candy for dessert plates can be expensive. My White Fudge Recipe can yield quite a few unique types of candy, just by changing the add-ins and coatings. A sandwich can stand alone, but adding a small sweet treat can enhance your sandwich meal.
2.
Exotic Sandwich Ideas
Are you tired of the same old sandwiches? Here are some old ideas with a new twist! Take a journey down a road that totally bypasses the fast food lane. Find some new ideas. These exotic sandwich ideas will tickle your taste buds.
3.
Pumpernickel Grilled Cheese Sandwich Recipe
Sometimes, I want a full-flavored hearty sandwich, something with Old World comfort. That's when I turn to this delicious sandwich. It has a rich crunch and ingredients that satisfy my need for real food.
4.
Bacon Sandwich Ideas
Who doesn't love bacon? Well, other than doctors and all of those people who are worried about saturated fats. Oh, and vegetarians, too! I know a lot of people who just drool over a crispy piece of bacon. Here are bacon cooking methods and Bacon Sandwich Ideas.
5.
Turkey Burger Chili with Beans Recipe
How can you serve a nutritious meal? Dish up a bowl of turkey burger chili with beans. Pair it with a grilled cheese, hot dog, or cheese quesadilla. Roll a high fiber tortilla up with some chili! Add some veggie sticks and fruit for a complete meal. Sandwich suppers don't get any better than this!
6.
Sweet and Spicy Ham Dip Recipe
Sweet & hot with a deep smoky flavor, this ham dip is an addictive taste treat. Create sandwiches with Sweet and Spicy Ham Dip. You can make this into pinwheels, too! Serve an open-face sandwich with Sweet and Spicy Ham Dip on toasted sourdough bread, garnished with shredded lettuce. What a treat!
7.
A Dozen Fresh Turkey Sandwich Ideas
There are certain times during the year when there is an overabundance of leftover turkey in the fridge. It's great for sandwiches, but sometimes you need some fresh new turkey sandwich ideas. This article is for you!
8.
Shrimp Salad Recipe
My Shrimp Salad Recipe is easy to make! This salad is filled with solid nutrition, plus it looks colorful and fresh. Shrimp Salad can be used as an elegant sandwich on a croissant or an informal cracker sandwich. However it is used, count on Shrimp Salad as a tasty treat!
9.
Candied Butternut Squash and Sweet Potatoes Recipe
When can a sweet potato casserole taste great and have better nutrition than its more traditional cousin? Find out when you make this lighter luscious version that tastes like candied yams. Butternut squash replaces part of the sweet potatoes and it has fewer carbs and fat, but delicious taste.
10.
Sweet Fruit Desserts for Sandwich Meals
When many people think of dessert, they believe these foods should be rich, gooey, and decadent. Fruit desserts can be delicious and a more nutritious option for that sweet finish to a sandwich meal. Easy to make, they almost create themselves! Try some sweet fruit desserts soon.
Be sure to visit the
Sandwiches Archives
for all the articles!
Editor's Picks Articles
Top Ten Articles
Previous Features
Site Map