Top Ten Sandwiches Articles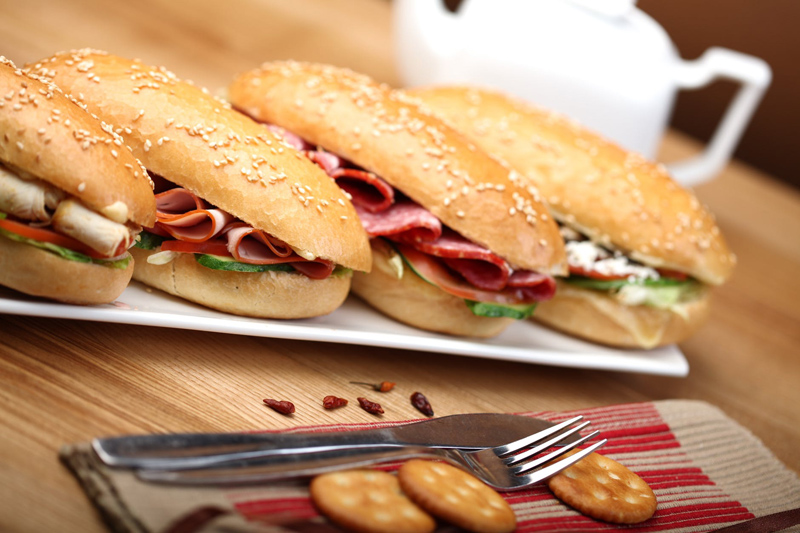 Here are the top ten articles for the Sandwiches Site! These rankings are live and get reset at the beginning of each month, so check back often to see what your fellow visitors are most interested in!
1.
Basic List of Sandwich Ingredients
Creating a fantastic sandwich is a matter of having the building blocks of the sandwich available. You don't need to have all of the ingredients on this list, but keep the ones that you regularly use handy. A tasty sandwich is just minutes away from the plate!
2.
Delicious Frick's Ham Slices Review
Are you tired of ham that just doesn't taste right? Frick's Quality Meats makes ham slices that are perfect for all of your sandwich needs. This is artisan ham that is made with real sugar in small batches, and actually hardwood smoked. Since 1896, they've made ham, and they are good at it!
3.
High Fiber Tortilla Recipe
A fresh tortilla has a fantastic taste. How could it be better? Add fiber! These high fiber tortillas are wonderful wraps for any occasion. Burritos or fajitas? No problem! Substitute them for naan or a pita. These high fiber tortillas are as versatile as they are tasty.
4.
Cilantro Lime and Chives Asian Slaw Recipe
This brightly colored and delightful salad may be used as a sweet and savory side dish. It makes a wonderful side dish for any chicken or pork sandwich. Add some to a brat in a bun. Use it in a wrap sandwich. It is also delightful when it is rolled into rice paper for a fresh spring roll.
5.
Pickled Hot Potato Salad Recipe
This delicately spiced hot potato salad has an unusually frugal ingredient. Use those leftover dill pickle juices from Claussen Kosher Dills! Instead of using vinegar, add the pickle juice to your hot potato salad for some tangy goodness. It does sound a bit strange, but you'll love it!
6.
Don Lee Farms Angus Patties Review and Recipe
Don Lee Farms Angus Patties are fully-cooked burgers that helped us to save money, since they are so easy to fix. Use them instead of going out for fast food. They can be prepared in a pan, microwaved, or grilled in a matter of minutes. The article includes a recipe for a succulent Pattie Melt.
7.
Creamy Coleslaw Recipe
This creamy, tangy coleslaw looks and tastes like the coleslaw that comes with fried chicken at restaurants. It's easy to make, and you'll feel like a magician when your friends and family make it disappear!
8.
Italian Steak Sandwich Recipe
Growing up in the Kansas City Metro area, there was a local favorite sandwich called the Italian Steak Sandwich. It was a bit of breaded paradise on a bun. They are hard to find today, but with this recipe, you will never have to look farther than your kitchen.
9.
Cherry Tomato Salad for Sandwich Meals
In the winter, cherry tomatoes usually have bolder flavor than their larger cousins. They are perfect for use in sandwich side dishes. Here is a cherry tomato salad side dish, with variations, that perfectly complements sandwiches. Made easily with cherry tomatoes, cucumber, onion, and seasonings.
10.
Cattlemen's Ranch Black Angus Patties Review
What can you do if you want a burger, but you don't feel like grubbing around in a package of raw hamburger? Aldi has frozen 1/3 pound burgers, called Cattlemen's Ranch Black Angus Beef Patties, ready to cook. This review gives some details about this product and ideas for those special burgers.
Be sure to visit the
Sandwiches Archives
for all the articles!
Editor's Picks Articles
Top Ten Articles
Previous Features
Site Map