Top Ten Sandwiches Articles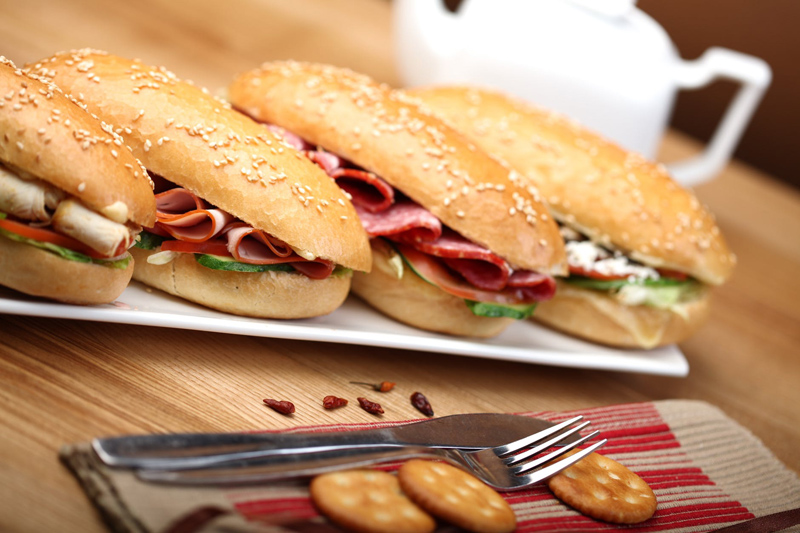 Here are the top ten articles for the Sandwiches Site! These rankings are live and get reset at the beginning of each month, so check back often to see what your fellow visitors are most interested in!
1.
Sweet and Spicy Ham Dip Recipe
Sweet & hot with a deep smoky flavor, this ham dip is an addictive taste treat. Create sandwiches with Sweet and Spicy Ham Dip. You can make this into pinwheels, too! Serve an open-face sandwich with Sweet and Spicy Ham Dip on toasted sourdough bread, garnished with shredded lettuce. What a treat!
2.
Pumpernickel Grilled Cheese Sandwich Recipe
Sometimes, I want a full-flavored hearty sandwich, something with Old World comfort. That's when I turn to this delicious sandwich. It has a rich crunch and ingredients that satisfy my need for real food.
3.
Sprouted Wheat Naan for Sandwiches
Did you know that you can make a tasty naan without a tandoor oven? Yes, you can! This recipe makes a healthy, delicious naan that can be used as a foundation to create delightful sandwich meals. It's easy! Give it a try.
4.
White Fudge Candy Recipes
I like to save money on food. Buying several kinds of candy for dessert plates can be expensive. My White Fudge Recipe can yield quite a few unique types of candy, just by changing the add-ins and coatings. A sandwich can stand alone, but adding a small sweet treat can enhance your sandwich meal.
5.
Rotisserie Chicken Sandwich Ideas
A good rotisserie chicken can give you a lot of meat for those special sandwiches. In the winter, those chicken bones can give you the means to make a great soup stock to complement your sandwiches. I love buying a large chicken that I don?t even need to cook. It is the ultimate fast food.
6.
Shrimp Salad Recipe
My Shrimp Salad Recipe is easy to make! This salad is filled with solid nutrition, plus it looks colorful and fresh. Shrimp Salad can be used as an elegant sandwich on a croissant or an informal cracker sandwich. However it is used, count on Shrimp Salad as a tasty treat!
7.
Sweet Fruit Desserts for Sandwich Meals
When many people think of dessert, they believe these foods should be rich, gooey, and decadent. Fruit desserts can be delicious and a more nutritious option for that sweet finish to a sandwich meal. Easy to make, they almost create themselves! Try some sweet fruit desserts soon.
8.
Romaine Lettuce Wrap Sandwich Ideas
Romaine lettuce is wonderful for little lettuce wraps. It tends to cup in the middle, a bit like a taco shell. Just add your chosen filling and pull the sides up. The lettuce is crisp, sweet, and delicious when you put a tasty filling in the middle. Try making some today!
9.
16 Summer Sandwich Ideas
Summer is the time for fresh, fresh, fresh! Pile those garden fresh ingredients on your sandwiches. Some of these treats are flavorsome vegetarian sandwiches, while others are luscious for meat lovers. Take a little peek at these tasty sandwich delights!
10.
Sandwich Ideas and Tips
There are times that we get into a routine. We make the sandwiches that we know with ingredients that we always use in just the same ways. Even though those sandwiches are tasty, why don't you shake things up a little? Try something a bit different. Here are ideas!
Be sure to visit the
Sandwiches Archives
for all the articles!
Editor's Picks Articles
Top Ten Articles
Previous Features
Site Map