Top Ten Sandwiches Articles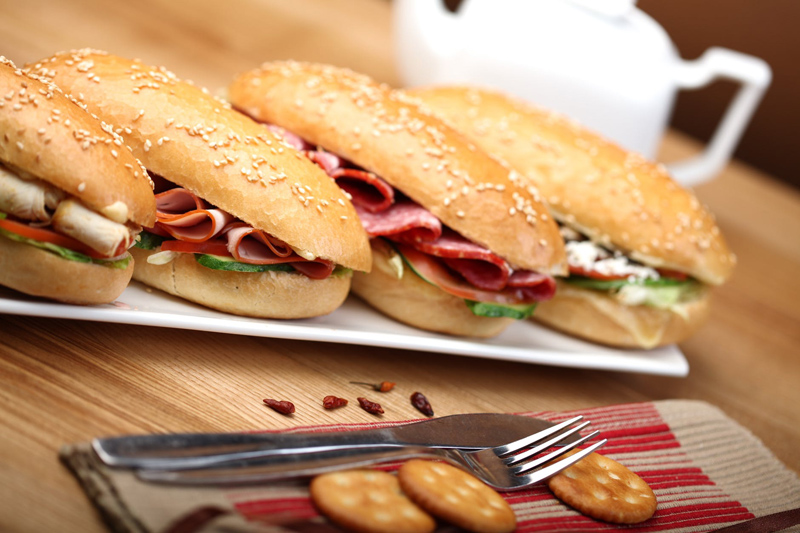 Here are the top ten articles for the Sandwiches Site! These rankings are live and get reset at the beginning of each month, so check back often to see what your fellow visitors are most interested in!
1.
6 Wrap Sandwich Ideas with Variations
Whether you use a grain product or a veggie leaf to hold a filling together, wrap sandwiches are delicious! Use these ideas, or build your own special wraps. Wrap your favorite meat dish or salad. Turn leftover veggies or beans into a wrap sandwich. You can wrap almost anything!
2.
Wholly Guacamole Product Review
Looking for a quick and easy way to add zest to a sandwich meal? Wholly Guacamole was made just for you. Naturally tasty, Wholly Guacamole is just what its name advertises. These refrigerated ingredients include avocado, jalapeno puree, onions, salt, and garlic. It's good food!
3.
Basic List of Sandwich Ingredients
Creating a fantastic sandwich is a matter of having the building blocks of the sandwich available. You don't need to have all of the ingredients on this list, but keep the ones that you regularly use handy. A tasty sandwich is just minutes away from the plate!
4.
Italian Steak Sandwich Recipe
Growing up in the Kansas City Metro area, there was a local favorite sandwich called the Italian Steak Sandwich. It was a bit of breaded paradise on a bun. They are hard to find today, but with this recipe, you will never have to look farther than your kitchen.
5.
Easy Artisan Rolls Recipe for Sandwiches
Steve Gamelin of Artisan Bread with Steve, has a wonderful method for making bread without fancy equipment or a bread maker. Using flour, water, yeast, and salt, this recipe takes just a few minutes to make. I made a dozen rolls for under $2! What did you pay for artisan rolls at the store?
6.
Sweet and Spicy Ham Dip Recipe
Sweet & hot with a deep smoky flavor, this ham dip is an addictive taste treat. Create sandwiches with Sweet and Spicy Ham Dip. You can make this into pinwheels, too! Serve an open-face sandwich with Sweet and Spicy Ham Dip on toasted sourdough bread, garnished with shredded lettuce. What a treat!
7.
Holiday Sandwich Picnic Recipes
These recipes can be made for an indoor buffet, or you can have a wonderful picnic meal, if the weather cooperates for your holiday sandwich meal. No matter where you serve it, this meal has something to satisfy most people. Many of the recipes can be made ahead of time.
8.
Cattlemen's Ranch Black Angus Patties Review
What can you do if you want a burger, but you don't feel like grubbing around in a package of raw hamburger? Aldi has frozen 1/3 pound burgers, called Cattlemen's Ranch Black Angus Beef Patties, ready to cook. This review gives some details about this product and ideas for those special burgers.
9.
Falafel Chili Recipe
I want to share a recipe that I created with you! It is perfect for cold weather and Meatless Monday meals. Filled with lively flavor and fiber, this chili is suitable for vegetarians, vegans, and carnivores. Try some tasty falafel chili!
10.
Bacon Sandwich Ideas
Who doesn't love bacon? Well, other than doctors and all of those people who are worried about saturated fats. Oh, and vegetarians, too! I know a lot of people who just drool over a crispy piece of bacon. Here are bacon cooking methods and Bacon Sandwich Ideas.
Be sure to visit the
Sandwiches Archives
for all the articles!
Editor's Picks Articles
Top Ten Articles
Previous Features
Site Map