Top Ten Sandwiches Articles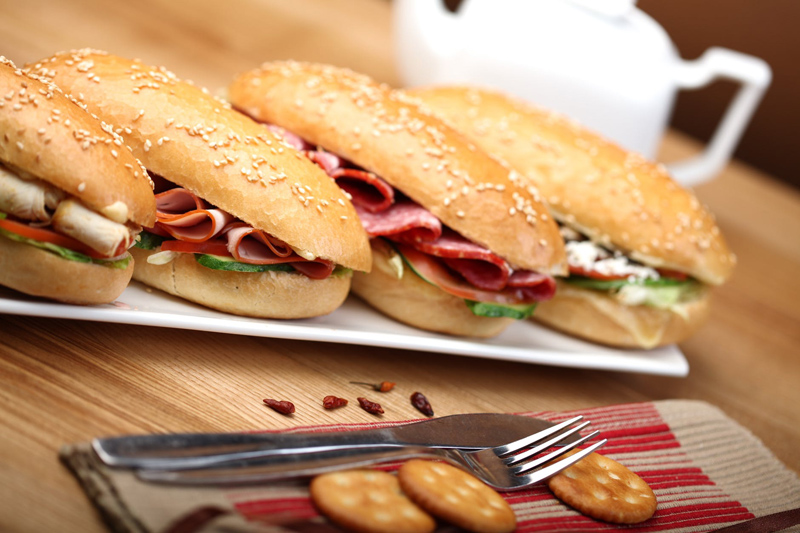 Here are the top ten articles for the Sandwiches Site! These rankings are live and get reset at the beginning of each month, so check back often to see what your fellow visitors are most interested in!
1.
Basic List of Sandwich Ingredients
Creating a fantastic sandwich is a matter of having the building blocks of the sandwich available. You don't need to have all of the ingredients on this list, but keep the ones that you regularly use handy. A tasty sandwich is just minutes away from the plate!
2.
Cattlemen's Ranch Black Angus Patties Review
What can you do if you want a burger, but you don't feel like grubbing around in a package of raw hamburger? Aldi has frozen 1/3 pound burgers, called Cattlemen's Ranch Black Angus Beef Patties, ready to cook. This review gives some details about this product and ideas for those special burgers.
3.
Don Lee Farms Angus Patties Review and Recipe
Don Lee Farms Angus Patties are fully-cooked burgers that helped us to save money, since they are so easy to fix. Use them instead of going out for fast food. They can be prepared in a pan, microwaved, or grilled in a matter of minutes. The article includes a recipe for a succulent Pattie Melt.
4.
Cilantro Lime and Chives Asian Slaw Recipe
This brightly colored and delightful salad may be used as a sweet and savory side dish. It makes a wonderful side dish for any chicken or pork sandwich. Add some to a brat in a bun. Use it in a wrap sandwich. It is also delightful when it is rolled into rice paper for a fresh spring roll.
5.
A Dozen Fresh Turkey Sandwich Ideas
There are certain times during the year when there is an overabundance of leftover turkey in the fridge. It's great for sandwiches, but sometimes you need some fresh new turkey sandwich ideas. This article is for you!
6.
High Fiber Tortilla Recipe
A fresh tortilla has a fantastic taste. How could it be better? Add fiber! These high fiber tortillas are wonderful wraps for any occasion. Burritos or fajitas? No problem! Substitute them for naan or a pita. These high fiber tortillas are as versatile as they are tasty.
7.
Taco Buffet
Perfect for any season, a taco buffet can make a lot of people very happy by giving them choices. Are your guests vegetarians, dedicated carnivores, or a good mix of the two? You can serve them an assortment of scrumptious ingredients and let them get creative as they build their dream platters!
8.
6 Wrap Sandwich Ideas with Variations
Whether you use a grain product or a veggie leaf to hold a filling together, wrap sandwiches are delicious! Use these ideas, or build your own special wraps. Wrap your favorite meat dish or salad. Turn leftover veggies or beans into a wrap sandwich. You can wrap almost anything!
9.
Italian Pork Patties Recipe
With a lot of succulent pork in my freezer, it was time to get creative. This is a porkie twist on an old favorite sandwich of mine. These Italian Pork Patties can stand up to a big bun with a lot of condiments! Enjoy this tasty sandwich filling soon.
10.
Easy Artisan Rolls Recipe for Sandwiches
Steve Gamelin of Artisan Bread with Steve, has a wonderful method for making bread without fancy equipment or a bread maker. Using flour, water, yeast, and salt, this recipe takes just a few minutes to make. I made a dozen rolls for under $2! What did you pay for artisan rolls at the store?
Be sure to visit the
Sandwiches Archives
for all the articles!
Editor's Picks Articles
Top Ten Articles
Previous Features
Site Map