Top Ten Sandwiches Articles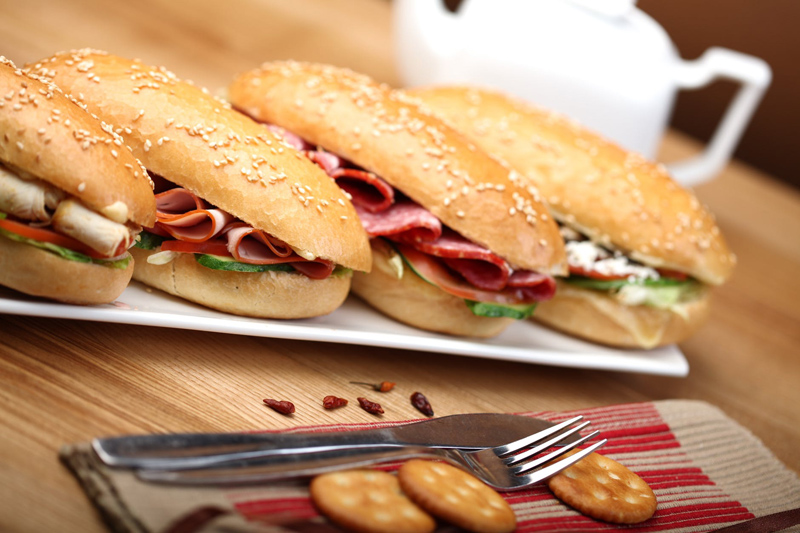 Here are the top ten articles for the Sandwiches Site! These rankings are live and get reset at the beginning of each month, so check back often to see what your fellow visitors are most interested in!
1.
Sweet and Spicy Ham Dip Recipe
Sweet & hot with a deep smoky flavor, this ham dip is an addictive taste treat. Create sandwiches with Sweet and Spicy Ham Dip. You can make this into pinwheels, too! Serve an open-face sandwich with Sweet and Spicy Ham Dip on toasted sourdough bread, garnished with shredded lettuce. What a treat!
2.
Pumpernickel Grilled Cheese Sandwich Recipe
Sometimes, I want a full-flavored hearty sandwich, something with Old World comfort. That's when I turn to this delicious sandwich. It has a rich crunch and ingredients that satisfy my need for real food.
3.
Shrimp Salad Recipe
My Shrimp Salad Recipe is easy to make! This salad is filled with solid nutrition, plus it looks colorful and fresh. Shrimp Salad can be used as an elegant sandwich on a croissant or an informal cracker sandwich. However it is used, count on Shrimp Salad as a tasty treat!
4.
White Fudge Candy Recipes
I like to save money on food. Buying several kinds of candy for dessert plates can be expensive. My White Fudge Recipe can yield quite a few unique types of candy, just by changing the add-ins and coatings. A sandwich can stand alone, but adding a small sweet treat can enhance your sandwich meal.
5.
Sprouted Wheat Naan for Sandwiches
Did you know that you can make a tasty naan without a tandoor oven? Yes, you can! This recipe makes a healthy, delicious naan that can be used as a foundation to create delightful sandwich meals. It's easy! Give it a try.
6.
Peppadew Pepper Recipes
Peppadew peppers are small bright red peppers that are sweet and spicy at the same time. They are about the size of cherry tomatoes. While Peppadews are expensive, about $12 a jar, it doesn't take a lot of Peppadew to add a splash of their wonderful flavor. Here are some easy ideas for their use.
7.
Brined Chicken Thigh Recipe
My Brined Chicken Thigh Recipe is juicy, with complex flavors, and a little kick of heat. These chicken thighs are easy to make with simple ingredients. Use your favorite cooking method to make some of these tempting treats soon!
8.
Romaine Lettuce Wrap Sandwich Ideas
Romaine lettuce is wonderful for little lettuce wraps. It tends to cup in the middle, a bit like a taco shell. Just add your chosen filling and pull the sides up. The lettuce is crisp, sweet, and delicious when you put a tasty filling in the middle. Try making some today!
9.
Vegan Sweet Potato Burger Recipe with Dip
Too often when I buy meatless burgers, they taste strange, have a weird texture, or they are so expensive, I need to take out a second mortgage to make dinner. These Vegan Sweet Potato Burgers are better than store-bought. They taste great, have a good texture, plus they are cheap & easy to make.
10.
Gluten Free Nut Flour Cookie Recipe
Most people don't need gluten free cookies, but those that do can eat these with confidence. There is no gluten here! Don't confuse gluten free with low calorie. Made from nut flour, instead of wheat flour, these high-fat cookies have a lower carb profile than cookies made with flour. Delicious!
Be sure to visit the
Sandwiches Archives
for all the articles!
Editor's Picks Articles
Top Ten Articles
Previous Features
Site Map